MANAGEMENT SKILLS FOR SECRETARIES AND ADMINISTRATIVE PROFESSIONALS
By virtue of your passion, you are already at the top of your profession. However, there is still scope for developing your own potential to make a valuable, and valued contribution, both to your boss and his/her immediate team. The high-level course has been structured to help you refine your talents and skills by analysing in-depth the context of your situation and your evolving role as the boss's right-hand person.
By the end of this course, participants will be able to:
Competencies and Time Management
Improving Communication Skills
Assertiveness Skills
Successfully Working with Managers and Colleagues
Organising and Planning for Superior Performance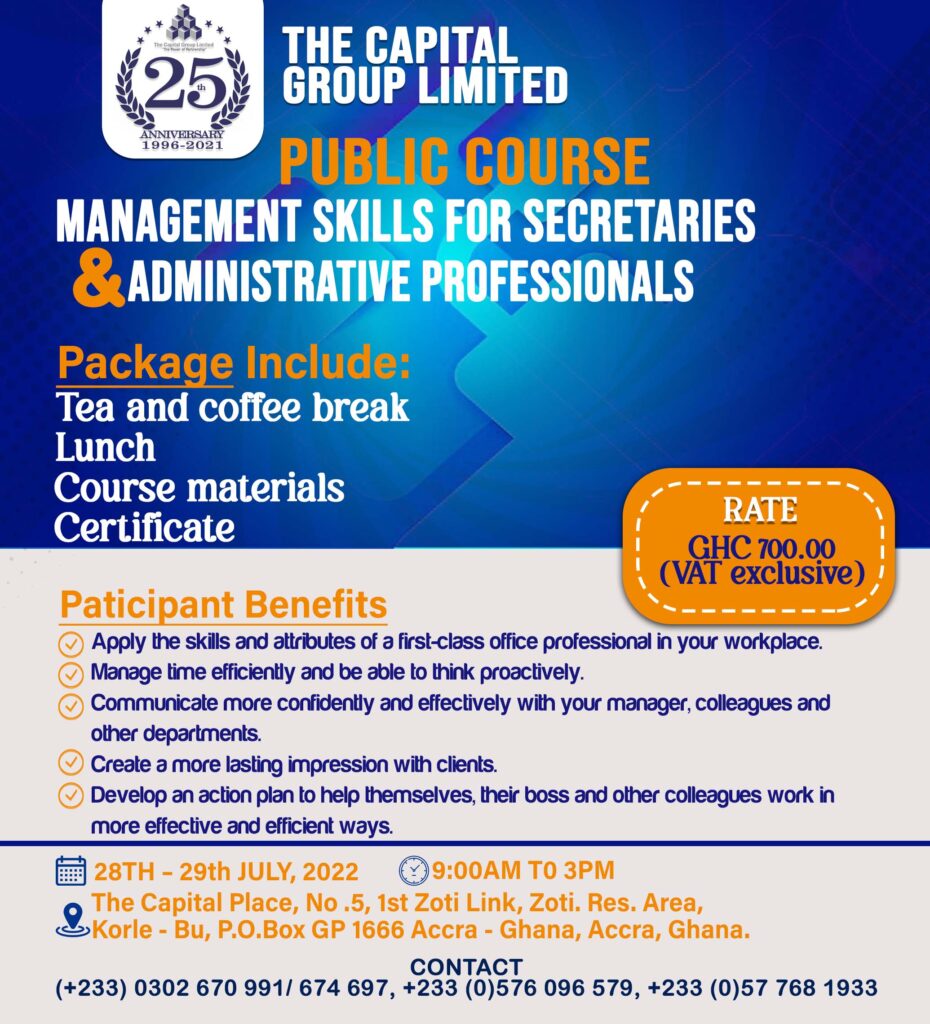 At the end of the presentation the participants will be able to:
Apply the skills and attributes of a first-class office professional in your workplace
Manage time efficiently and be able to think proactively
Communicate more confidently and effectively with your manager, colleagues and other departments.
Create a more lasting impression with clients.
Develop an action plan to help themselves, their boss and other colleagues work in more effective and efficient ways.
During this programme you will:
Network and learn from a diverse group of peers from different functions and industries
Develop a personal action plan to implement back at work
Learn and practice using real-world examples over 2 interactive days.
Date: 28TH - 29TH JULY, 2022.
Venue: The Capital Group Training Centre (Accra)
Rate per Participant: GHC 700.00 (VAT exclusive)